The complex of the Monastery of Myrtidia consists of
a) the Katholikon* in the center which belongs to the type of three-naved basilica with the central nave elevated, narthex and gallery (women's section of the church), at the lower level of which was the original Church of the Virgin Mary
b) cells arranged north and south of the Katholikon, in which are hosted mainly believers for the fast of the first 15 days of August (dekapentismos)
c) Bell tower to the NE of the Katholikon, made of alabaster, total height 26m with impressive arched formations on the fronts of the four floors
d) Small temple of the Holy Trinity, single-room vaulted, of post-Byzantine times.
The original Church of Panagia has been adapted to the natural configuration of a rocky opening in which there is a shallow niche in the north to host the icon of Panagia Myrtidiotissa, a place that refers to its discovery. Today in the old Katholikon there is an icon of Panagia Myrtidiotissa, with a silver lining and an inscription: By study and expense of CK CK + X Hieromonk and abbot Kaloutzis, poem by Theofilis Spithakis. The newest Katholikon in its current form was built by the abbot Agathangelos Kalligeros in the middle of the 19th century. It belongs to the type of the three-naved basilica, with a marble iconostasis and an inscription that informs us that it was painted by artists from Tinos, in the year 1856. Τhe bell tower to the NW of the Katholikon is impressive. It is 26m high, made entirely of alabaster which was decorated by the Kythirian artist Nikolaos Fatseas (Fouriaris) in 1888. Cells are arranged north and south of the Katholikon in which the believers and pious pilgrims are hosted for the fast of the 15th of August.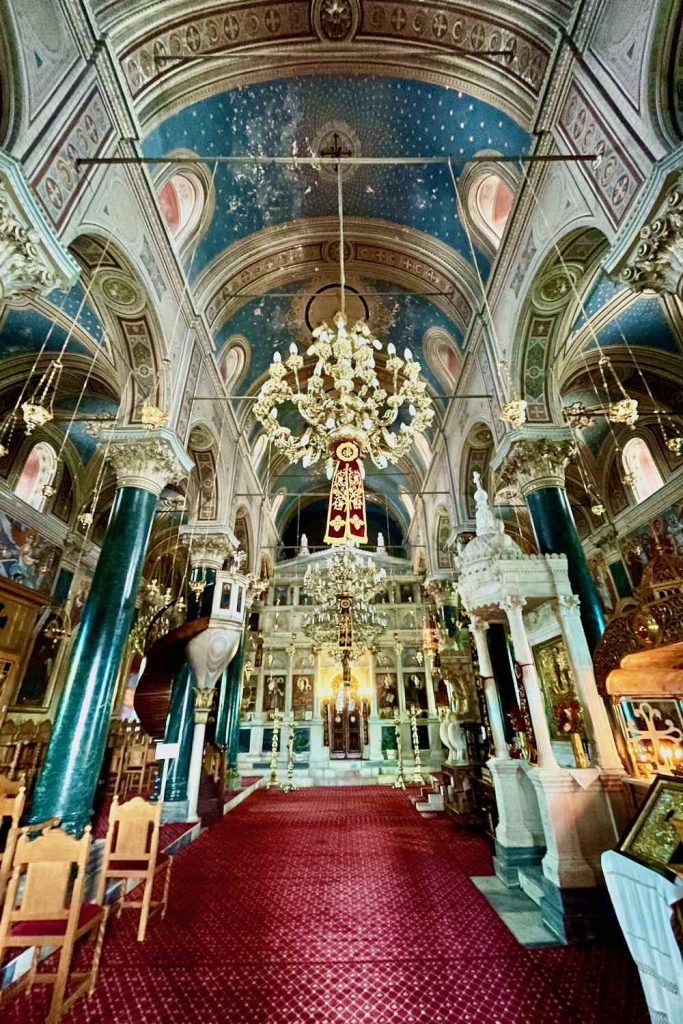 The tradition tells of the finding of the icon in 1160 or the 15th century, in the area of the present Monastery by a shepherd, a scene that was incorporated in the lower belt of the garment of the icon made by Nikolaos Theofilos Spithakitos in 1837 as we are informed by the inscription which is engraved on the garnment.
Access: Asphalt road