Castle
The ancient city, which is estimated to have been inhabited by about 800 people, is preserved in its entirety, in an area of about 300 acres. In some parts of it, walls 6 meters high are preserved. In the walled ancient city that existed in the Hellenistic years in the northern part of the island, above the bay of Xiropotamos, where its port was located, a neosikos (storage place for a warship) carved entirely in the rock is also preserved in very good condition, from the few in Greek space that is preserved in its entirety.
Shrine of Apollo
In the deepest part of the small bay of Xiropotamos in ancient times the port of Aegila operated. In this area, parts of walls that are estimated to have belonged to the sanctuary or the port facilities are preserved to this day, as well as stairs carved into the rock that led to the Castle.
During excavations in 1880, a statue dedicated to Apollo Aegilios was discovered, which is exhibited in the Archaeological Museum of Athens, as well as parts of the sanctuary of the god, which was located in the port.
The watermill of Andronikos
A whole modern Greek watermill survives in Potamos, the Watermill of Andronikos, which according to the testimonies was built at the beginning of the 19th century and usually worked only in winter. The cistern (with a capacity of 60-70 km) is preserved, which was supplied by a mill from the source of Potamos, and the water tower, built of perforated alabaster, which was connected to a special device for stopping the water supply from the cistern. In addition to the watermill, in Antikythira there are five windmills of the 19th century.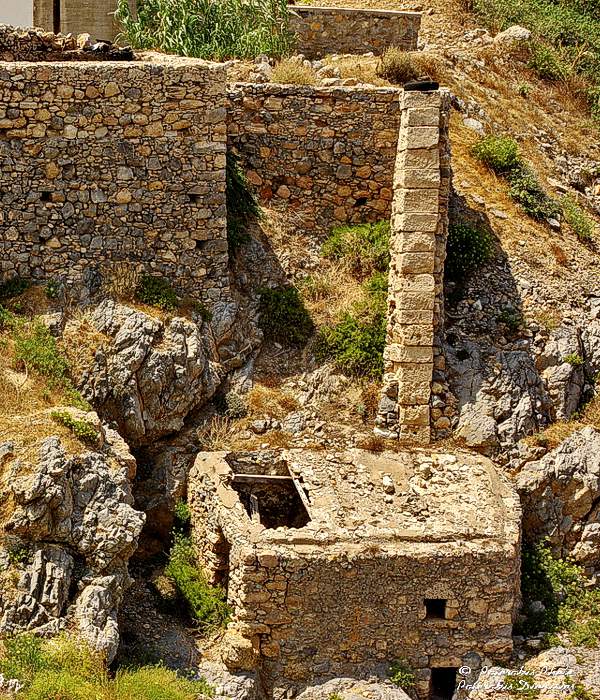 The lighthouse of Apolytara
At Cape Apolytara, at the southern tip of Antikythera, is the Lighthouse of Apolytara, built in 1926, an excellent monument of modern architecture. Access is only by boat from the sea or walking from the paths that start from Katsaneviana or Galaniana. The lighthouse was supervised by lighthouse keepers until 1987, while in 2004, at the suggestion of the Island Community, the Navy decided to fully maintain the building and re-staff it with lighthouse keepers, giving new life to this important newer monument.
Agios Miron
Tradition and the few written sources place the finding of the icon of the Saint in Antikythira by Cretan hunters in the late 18th century, and while the island was still deserted by inhabitants. In 1780 many inhabitants of Kissamos and Sfakia colonize the island and the Church of the Saint is a building of the same period.
In the Temple today you can admire the iconostasis with the icons of Christ, the Virgin Mary and Agios Miron made of genuine silver, true elegant crafts. Here is kept the most sacred relic of the island: the icon of Agios Mironos, found in Antikythira by Cretans, when the island was deserted.
His memory is celebrated with brilliance on August 17.